The Indian women's cricket team is currently in England taking on the home team in a multi-format series containing a one-off Test match, 3 One-Day Internationals, and 3 T20 Internationals. India played their first ODI on Sunday and faced a disappointing loss due to below-par performance across all three departments.
The Indian vice-captain Harmanpreet Kaur in an interview with Annesha Ghosh for ESPN Cricinfo talked about her eating habits and spilled some beans, literally.
The 32-year-old revealed that her favorite meal, any day, is dal, "Dal, or anything gravy-based. But dal of any kind is a perennial favorite. I can have it pretty much every day of the week, and once I spot dal on my plate, my meal is complete."
When asked about her eating pattern and what she eats when she is at her home in Haryana, she said, "My parents are vegetarian. My brother and I eat non-vegetarian food only when we eat out. In general, we all eat quite light. The dal that's cooked at home is unmatchable, so that would be my pick for the best dish from the Bhullar household."
Being good at playing cricket and cooking is probably a rare phenomenon but some names did come into Kaur's head when asked about a cricketer who is an amazing cook, "My friend Noopur [Kashyap], who played a bit of cricket with me in Punjab, is a terrific cook. Even if you wake her up in the middle of the night, she'll whip up something amazing for you to eat."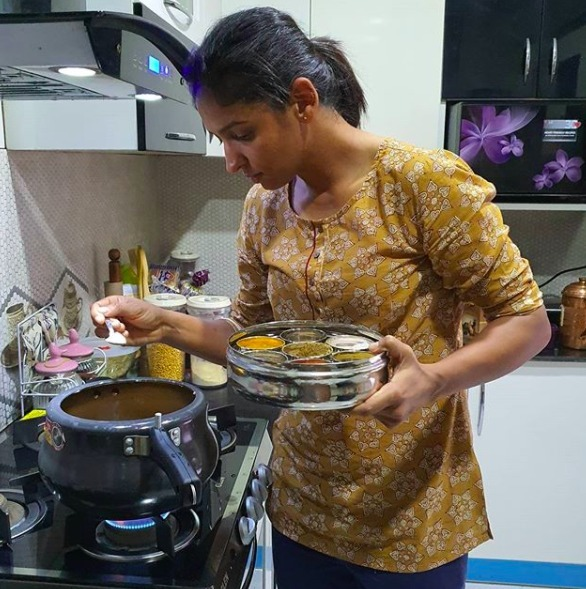 Getting good food when you go to a cricket stadium is essential for players so that they can have the energy and get the nutrients that they need for giving it all during the match. Kaur also revealed the name of the stadium that serves the best food.
"I remember the food we were served at the Feroz Shah Kotla in Delhi during the 2016 T20 World Cup match against Pakistan was outstanding. That's the only international game I have played in Delhi to date, but the sumptuousness of the meals remains unforgettable."
She also praised BCCI for making sure that the team gets good food where ever they go, "In general, no matter which part of India you play in, I feel you get served very good food. And that applies to overseas players, too. I think our board is good at ensuring the touring party is well looked after, food-wise. So, they allocate chefs based on the food preferences of the foreign players. But when we tour overseas, getting used to sandwiches for the majority of the tour can be a bit challenging."
Harmanpreet Kaur could not score well in the 1st ODI played on 27th June 2021, but we all hope she bounces back strongly in the next ODI against England in Taunton and gives us the Harman storm we all are eagerly waiting to witness.
Read the full interview on ESPN Cricinfo here