There are and will always be talents whose statistical achievements will leave you as dumbfounded as the question as to what might happen to their side in their absence?
True greatness in the sport might not always be gauged by burgeoning stats alone for it could well be determined by how big a shoe you leave behind to fill by the others. And where it comes to Stafanie Taylor, hers is certainly going to be a vacuum that not many would endeavor themselves to fill, simply because a West Indies line up without her is akin to imagining a home without a mother. That's someone whose place none can take.
Think of a courtyard without the banyan tree, whose sublime shadow enables the countless exhausted to catch a lost breath, find that reprieve in life.
Though one must be glad that Taylor, at 30, is anything but ageing and by the looks of what she's consistently achieving, with every passing game, seems to suggest the right-hander is only getting younger in age (and ability) akin to a talented cricketing neophyte who's keen to learn with every game.
Moreover, that she's utterly un-reluctant to think of herself as a legend, which Taylor already conveys the zeal to succeed and constantly get better finds a new purpose in the daring West Indian.
Nothing could be more telling about Stafanie Taylor's usefulness to her side by the string of her recent achievements.
A hat-trick in the final T20 against Pakistan, which would ultimately yield a four-for. Leading her West Indies women to a successful final over run-chase, thanks to a swashbuckling unbeaten 43 (off just 41).
Stafanie Taylor brings up her 6️⃣th ODI century to win player of the match 🎉

West Indies go 1-0 in the series against Pakistan!#WIvPAK pic.twitter.com/sv8a14T1Hx

— ICC (@ICC) July 7, 2021
Captaining her side to a 3-nil whitewash of a Pakistani line-up boasting of a legend of the sport like Javeria Khan, a burning talent like Diana Baig and Aliya Riaz. And following all of this with a century of the highest class and caliber, which would give the hosts the mugshot for the 'player of the tour,' not 'player of the match' performance.
A West Indian victory was always going to be inevitable when 105-bravely collected runs came off just 116 (featuring 11 fours and 2 sixes).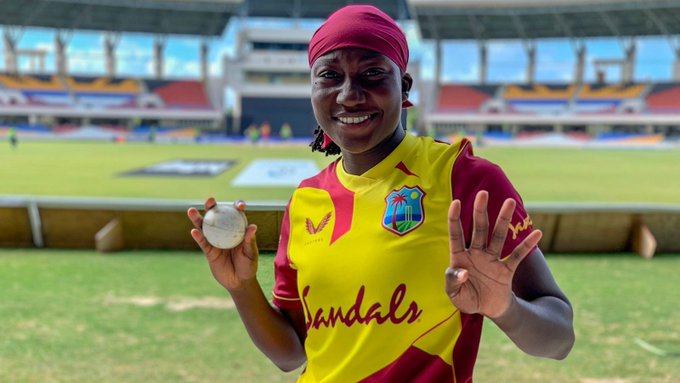 Though the true impact of Stafanie Taylor's sixth ODI century – and she's already struck 36 fifties- was measured by the fact that the second-highest score in a line-up featuring dangerous hitters in Matthews, Dottin, and Cooper was the 23 scored by the returning Cheadan Nation. An inning of substance and class, Taylor proved once again her invincibility by scoring over 50 percent of her entire team's scores.
In a cricketing age where there happens to exist a specialist for every single department, with roles clearly compartmentalized in vestibules so that each member of a playing eleven understands her responsibility, that Taylor is still carrying the bulwark of the team's scoring pays testimony to her class and, forget not, grit.
That she hardly ever complains about any situation, her focus resting solely on the match-situation also tells us about her desire to contribute in a way we grew accustomed to seeing the likes of Belinda Clark, Meg Lanning or a Rahul Dravid give back to their team.
Not because it was expected of them, because cricket for them equaled consistent contribution to the team's cause.Though interestingly, a lot about Stafanie Taylor in the imminent past seems to suggest the burning desire to go out there and express herself, having clearly missed out in the T20 2020 World Cup, where a string of low scores coupled with an injury spelled disaster to a cricketer made of pure gold.
In the ODIs to follow, should the likes of Matthews and Dottin bring on the scores, an already in-form Taylor would signal an ominous trinity to the Pakistan side, which it would dread to face.
But what's most important is that the once-in-a-lifetime Jamaican continues to lead by example.
Nothing would please a West Indian anymore than that, not to forget, specifically those from the land of Bob Marley where lyrics- "Get Up Stand up, Keep Up The Fight," still carry a lot of weight and purpose.
Keep fighting Stafanie!