One of the interesting segments on the World Wide Web pertaining to women cricketers sees some of the leading lights of the game answering questions in quick video responses. It's very easy to find on page 1 of Google itself, soon as you search for a particular cricketer. You have the likes of Meg Lanning, Deandra Dottin, Sana Mir, Nida Dar, Suzie Bates offering some close insights on the game. 
And a remarkably honest and sincere answer of the many asked of her comes from a certain Mignon du Preez. To the question, "How does it feel to be a part of the first stand-alone Women's World T20," the South African right-hander responded, "It's really special to be part of the first standalone Women's World T20, it's awesome to know the ICC cares about women's game that we are going to have our own standalone tournament."
As she answers the question, her eyes light up like a bright teenage girl about to enter the field for a debut game and there's this unavoidable candidness that explains to you just how big it meant to Mignon du Preez to have played the widely-watched world cup.
You'd think it only made sense that Mignon explained why it was so special, instead of offering a harmlessly polite reply for if you think of the 2020 Women's World T20, of the many captivating sites that come to mind, the one featuring South Africa and England women's can never be taken off the mind.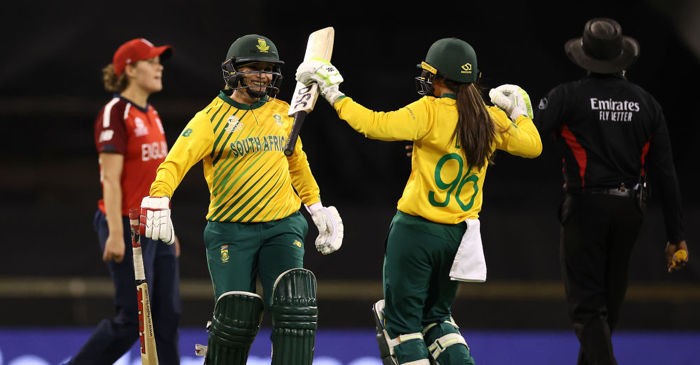 Needing nine off six in a final over chase with none other than Katherine Brunt holding the seam, not only among the greatest white-ball English players but among the world's best, Mignon latched on to a quicker one pitched around middle and leg and guided it over deep mid-wicket for a towering six. And with back-to-back hits to the fence, one of South Africa's senior figureheads became the match-winner and with it, the turner of a great tide.
Never before until the unforgettable events of Feb 23, 2020 had South Africa beaten England in a World T20.
With the game on the line, Katherine Brunt could have dismissed Sune Luus at the non-striker's end, but opted not to. Moments later Mignon du Preez blasted a game-defining six.

What do you think? 🤔 pic.twitter.com/oPqeUdo7Hl

— ICC (@ICC) February 23, 2020
That Mignon du Preez – highest scorer for the Proteas women in ODIs and T20Is, pressure-handler, consistent run-getter, unrelenting athlete- fired the opening runs were not only fulfillment of a huge dream for the Pretorian, that of emerging a match-winner for her team in the World T20, it also marked achieving a grand victory on what was her 100th T20 international.
But it's not that it was the first time that the dogged right-hander was facing the immensity of pressure. 
Back in 2018, with Mithali Raj's unit making light work of hosts South Africa, it all came down to the final ODI Senwes Park, Potchefstroom, where Proteas women were facing the risk of being whitewashed at home.
Forget the travesty of result that another loss might have fetched for the usually ebullient side, imagine the pressure van Niekerk's team were up against?
But India didn't win the 3rd ODI. The reason? That evergreen run-scorer who shoulders even today the responsibility of scoring useful runs with the same enthusiasm with which she did the same back in 2007.
Tasked with chasing a competitive 241 on a green top, with Proteas definitely making a bit of a game of the contest, not even averaging 4 an over going down at 51 for 2 in the 16th over, du Preez took it on her reliable shoulders to change the complexion of the game.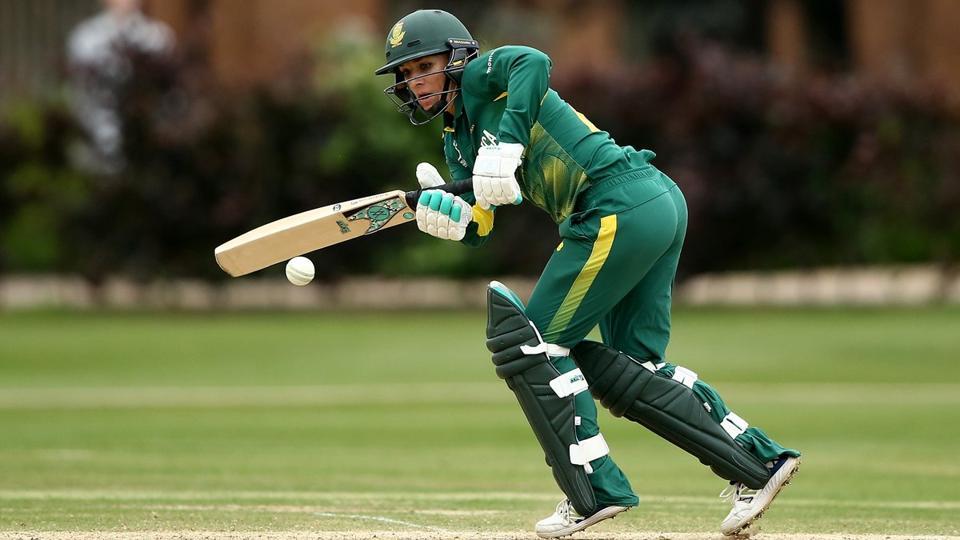 She was instrumental in stitching a match-reviving 118-run stand with Laura Wolvaardt, among the faces of women's cricket today, before holding onto another fine stand with her skipper. And before she ended up constructing an unbeaten 90 off 111, she offered a full expanse of her craft – the glowing off drive, the flick off the wrists, coming down to India's spinners and compiling useful runs square of the wicket, including a gorgeous boundary at point off Shikha Pandey
There's a huge chance that Mignon's defiance of an attack featuring Pandey, Bisht, Sharma, and Yadav was perhaps one of the most vital 90s knock ever in the ODI format and inarguably speaking, also one of the most under-appreciated.
But not someone who rubs her triumphs on her opponents' face, there was this grace and calmness on Mignon's face as she walked back to the dugout having focused for no fewer than three hours. A storm had been averted and South African pride, which was endangered by the tourists, remained intact.
To many – the innings was of great substance, publications rightly raving about a game-changer of a knock, but to du Preez- it was business as usual.
A batswoman, who exactly a year and a half back, in the women's game's grandest stage- the ODI world cup- stood between Proteas' woes and the insurmountable English ladies.
Perhaps even today a loss that may hurt the Proteas women like irrepressible heartburn would be the one suffered to the hands of Heather Knight's ladies in the 1st Semifinal, circa, July 18, 2017.
Batting first, the Proteas lost Lee early with the score on 21, before sliding further to 48 for 2 with Chetty back in the dugout. After a coming-of-age 66, when Wolvaardt departed, there was pressure on the batters. 32 overs had already been contested and they didn't even have a run rate of 4 an over. But all was not over; Mignon du Preez was at the crease, and in scoring perhaps her most significant fifty in a world cup, a seemingly inexhaustible 76 off just 95, it seemed none of the bowlers ever had a chance at getting her out.
To this day, the impassioned Proteas fan may wonder, would the team have reached 218 had one of South African batting's mainstays not churned out precious runs?
In the end, England humbled the Proteas, but one woman staged a lone fight. And it's what Mignon du Preez continues to do, when every time she dons the Proteas jersey with pride, holding the bat like a vanguard of a team that happens to be everyone's favorite for the rich passion and next-to-faultless craft it exhibits.
Never contesting the game for shenanigans, but always as the keeper of South Africa's flame, that burns bright with Mignon in sight. 
We salute a true champion of the game, who emerged early, continues to solider on aged 32 and has inspired countless women to pick up the bat and stoke their own identity around the world. Happy birthday the spark of Proteas' fire!