With all the ruckus surrounding the exit of WV Raman, the head coach of the Indian women's cricket team and he being replaced by Ramesh Powar last week, Purnima Rau, former India player and former head coach of Women in Blue expressed herself and spilled the beans on several issues revolving around the Indian women's cricket in an exclusive chat with news18.com.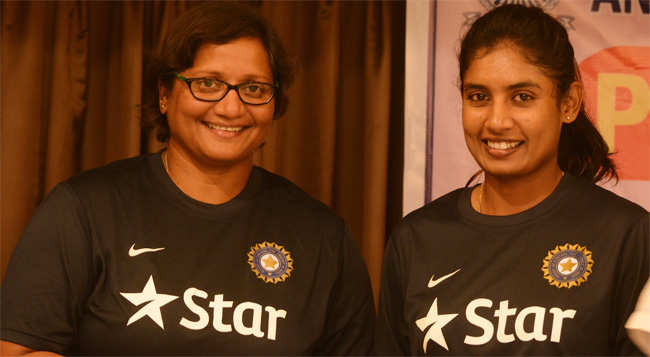 When asked about the whole situation in Indian women's cricket with respect to the exit of WV Raman and bringing back Ramesh Powar into the scheme of things, Rau said, "Coaches are taken for granted. There seems to be no respect for us. It is rot and everybody is responsible. The players, administrators, support staff, everyone. Now it has come to a stage where it is affecting the game."
"When I took over as coach in the mid-2010s, I had a fun-loving, innocent, very talented, lovely team. A couple of months prior to the 2017 World Cup (in which India lost to England by nine runs in the final at Lord's), I was booted out for whatever reasons that were not given to me at all. Do you mean to say, any coach can make a team in one month before the World Cup?
"Tushar Arothe then or for Ramesh Powar, now with less than a year left for the 2022 ICC Women's World Cup, it is not possible. Everybody has stopped thinking why this team is doing well. There is no mention of me in the sense that I have sacrificed so much for the team. It was a pleasure to be a part of the team and bring it to this height. Unfortunately, I was not there to enjoy that moment. No regrets. It is a rot that worries me now. No one wants to do anything about it. Things are continuing the way it was. Everybody is to be blamed – former players, administrators of every state. They have neglected the game. It is doing more harm now."
Elaborating more on the "rot", the former head coach of the Indian team averred, "When we won the T20 series for the first time in Australia in 2015-16, I remember the team to be a very innocent, happy, hungry bunch. It was nice to see them in the World Cup final in a matter of months. But, after tasting success, the contract system, social media becoming powerful, Big Bash League, media attention, money, captaincy issues, everything started snowballing into a big issue between them. There is no camaraderie, no bonding between the players. Suddenly everything could change with the whiff of money. They could not handle success and money. Former players have been doing it for ages. Some stricter measures and accountability, whether it is for selectors, coaches, administrators in each state, need to be in place. Women's cricketers have it in them to win the World Cup. I have told this many times in the team meetings when I was the coach. Indian team can win the World Cup not once but three-four times consecutively and stamp their class. Our domestic structure is good. But the mental part, the attitude of the players are totally going astray."
Further, with respect to the selection and dropping of players, Rau explained, "If somebody is good, her technique is good, can get runs at a good pace, why not select her for all the formats? Did not Virender Sehwag change the way Test cricket was played? Why can't we pick Shafali Verma for all formats (Shafali was not included in the ODI series against South Africa recently but has earned her maiden Test and ODI call-up for the upcoming tour of England). First of all, getting young talent in women's cricket is tough. And, when you get it, why can't you use her in all formats? Former players have vested interests. Everything is happening as per the vested interests. Everybody has an agenda, and the agenda is not Indian cricket. The girls know it and they have messed it up for themselves."
In order to solve the selection issue, Rau added, "Put the players in their places, put the former cricketers in their places. Ask them to work for a few months without being paid. Let them identify amongst these people who are genuine without any vested interests. Cut the dead twigs from the plant, remove the pests, and keep the plant in the sunshine, so to say in farming language. Throw away all the rubbish that is in women's cricket. Someone with power has to do it. If it is not done, this rot will continue. Someone has to show more interest in women's cricket in the BCCI. They have thrown away us coaches after keeping us just for the sake of it."
Rau stressed, "It is not happening only now. It has been happening since 1973 (when the Women's Cricket Association of India was formed). The girls are good, very talented, they can really stamp their class, but there are so many people pulling it down, and those people know it. The players, ex-players, administrators, support staff, they know what they have done. It is time they made amends."
Finally, on being asked whether she expected Raman to be replaced, she overtly said, "I knew Raman's days as women's cricket coach were numbered. I also know that Ramesh Powar's days as coach of the women's team are numbered if people don't take action now. It is the coaches who are axed. Nothing happens to anybody else. We coaches are made the mincemeat of the whole situation."
This article is just an excerpt. Refer to the original article for the full interview.
I am a former cricketer having represented Mumbai University at All India University level. I was a part of MCA probables for the U-19 and U-23 age group. I have been an avid cricket writer for the last five years. Currently I am pursuing my Ph.D from IIT Bombay.