It all started in 1999 when a school student went to England to watch the men's cricket World Cup. Back then, little did she know that within a few years, she would find herself rubbing shoulders with some of the greatest sportsmen and sportswomen of all time. There is seldom any doubt that the commercial pilot aspirant has fully stretched her wings and taken off to carve her name in the sporting media skyline.
Just recently, this dynamic sports media and management professional made the cut into the ICC's inaugural edition of the 100% Cricket Future Leaders Programme that received applications from 45 countries.
Commemorating her success, Female Cricket got in touch with Mumbai-based Harini Rana, to unravel her journey in sports media and management, the role of her spiritual mentor in her success, and of course her numerous interactions with some of the world's best athletes.
Excerpts from the interview:
When did you decide that you want to get into Sports Journalism?
Honestly, I wanted to become a commercial pilot but hailing from a humble financial background, I found it tough to turn that dream into reality. I had cleared the medical tests and was all set to realize my dream before I knew the cost of it was Rs. 40 lakhs. I decided to bid adieu and take up something else. After researching a lot, I came across a course "Bachelor of Mass Media" (BMM), which was just in its nascent stage. The driving force behind choosing BMM was my visit to England in 1999. It so happened that during one of my school summer vacations, my spiritual mentor Morari Bapu asked my father to send me to England for the men's cricket World Cup. Taken by surprise, my father was apprehensive due to financial constraints. However, Bapu organized everything and my Dad who worked with Air India through his contact with Ajit Wadekar and Sharad Diwadkar booked me onto the same flight as the Indian cricket team. The experience of watching live cricket matches at Lord's was second to none. While witnessing the sporting action, I thought to myself, how exciting it would be if I get a chance to travel places and cover sporting action. So in hindsight, that is where the seed could have been sown.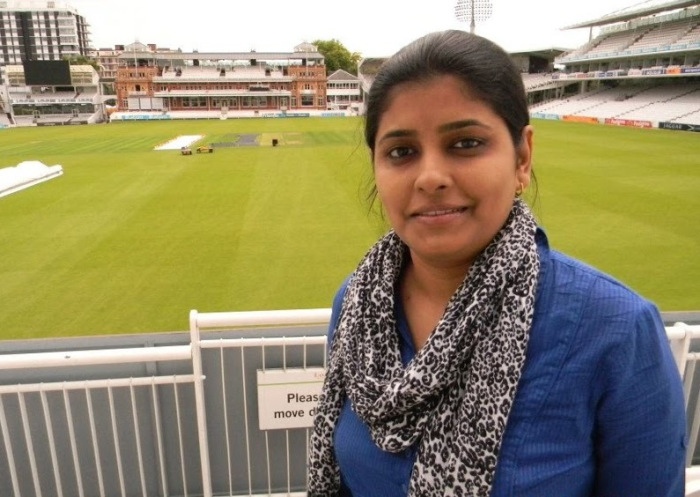 You completed your graduation in mass media. Can you tell us about your college days?
After I decided to pursue BMM, I gathered the requisite information, and until I got enrolled in the course, my parents didn't know anything about it. At the time of fee payment, I told my parents. They were very supportive. I spent my first two years at National College and for the final year, I moved to Wilson College. Since I was the only student to opt for journalism in the third year. After my first year, I vividly recall that I was unable to pay the fees in time. Thanks to my academic performance in the first year, my Principal S. Anand allowed me to secure admission for the second year. I had written a letter seeking a time extension for fee payment. She agreed. I still have that letter with me. It keeps me grounded and puts everything in perspective at times when you are not feeling good. 
Cognizant of the financial crunch, I decided to freelance at the end of my first year. I started writing with Rediff.com. My then editor, Faisal Shariff would always tell me; 'anything and everything happening in the city should be tracked'.
You got your first break at Rediff. After that how did things shape up for you?
I wrote for Rediff for over two years before moving to Sahara Television Network, India. Though I was there for just five months, the wealth of experience I earned at Sahara was unmatched. It was my first tryst with television and my learning curve there was really steep. I had the freedom to learn new things from editing to making graphics. In other words, you can say that Sahara is like a nursery of broadcasting, where you are taught the basics and given free hand to do things of your choice. From there, I moved to Times Now before it launched. I had an interview with Editor in Chief Arnab Goswami and Sports Editor Faisal Sharrif. I met both of them and went on to join Times Now. I enjoyed working with Arnab and the kind of support and backing that I received from him, the sports editor, and the entire Times Group including Mr. Vineet Jain was incredible. I have always been wanting to learn and grow and with media experience, I decided to get management experience and that lead me towards the management side of the sport. I am incredibly thankful to the leadership for the opportunity I have at RISE (Formerly known as IMG Reliance) as I continue to be associated with storytelling and sport.  
 As a part of your job, you have worked on a plethora of assignments in different countries. Which one have you enjoyed the most?
The 2007 cricket World Cup and 2011 World Cup will always remain close to my heart. The stark difference in the kind of atmosphere that was there in the Indian camp after being knocked out in the league stage in 2007 to the enormous jubilation that was seen in 2011.. Apart from these two events, I have always enjoyed my stay in Australia. It is a country that has accepted and respected women in sports. During one of my tours, I was featured in "Herald Sun" newspaper. After that article was published, I received a call from the Prime Minister Office inviting me to meet Julia Gillard, the then Prime Minister of Australia.  I got this opportunity, courtesy of being the female among the contingent of 40 male sports journalists. Recently, in March 2020 I was also invited by the Government of Victoria to represent India at the Global Business Summit for Women in Sport where I was part of the delegate from India along with members from 24 other countries. Indeed, Australia has always been special.  
Over a period of time, you got a chance to meet many inspiring personalities. What were some of the key learnings from them?
First and foremost, I would like to start with Sachin Tendulkar. He has been a legend in a true sense and the things that have inspired me are his consistency, perfection, and humbleness. My parents bumped into him at Mumbai airport once as he was returning with the Mumbai Ranji team from Hyderabad. They introduced themselves as Harini's parents and Sachin was quick to appreciate my mother for the home snacks that they have had during numerous tours, that was sweet of him. Apart from Sachin, MS Dhoni has been a wonderful figure. His knowledge about the game, the way he sees it, and his ever-Zen-like attitude through the highs, lows are special. Sania Mirza is another remarkable story, to be kicking the stereotypes in style is inspirational. 
According to you, what are the challenges that women face in the male-dominated sports journalism industry?
Sport, in general, has always been a male-dominated industry. Though things are changing now and the younger generation of athletes, administrators, and fellow colleagues are more inclusive, we still have a long way to go. A few years back when I became India's only second under-30 female sports editor of a national TV channel, it clearly shows that there are not many women in the field which is disheartening. I am happy that a transformation is happening. 
When I started it was obvious that my good work did not go down too well in the industry which was full of senior male sports journalists. There were insecurities and it used to affect me. However, learnings and my spiritual learning thanks to my mentor Morari Bapu always came to my rescue. My family of parents and sister too always kept me grounded.  
What is the key to thriving in this competitive market?
My simple formula to achieve success is "to be visible and work hard". Let me share an incident with you. While I was writing for Rediff, I had lined up an interview with Sanjay Narang, who was Sachin Tendulkar's partner in his restaurant "Tendulkar's", a few days before Sachin's birthday. While I was waiting at the restaurant for Mr. Narang, a plush BMW pulled over near the restaurant. I saw Sachin and his brothers Nitin and Ajit walking in. Very promptly, Mr. Narang asked me to interview Sachin directly and not him. As a college student, I was pleasantly surprised as anyone would be, I entered to interview Sanjay Narang and exited with Sachin's interview. During our introduction, he mentioned, I remember seeing you at Wankhede so many times. So long story short, I feel that all my investment of time and hard work of commitment to visit Wankhede without any work paid off as Sachin somewhere knew me.
Just a few days back, you made the cut at the ICC's 100% Cricket Future Leaders Programme to which over 300 women from 29 countries applied. What are your expectations from the programme?
With my media and management experience, the governance stream that I have applied for will be a massive value add. I have always championed the cause of women in sport at different levels- professionally and personally. This will obviously fuel that passion and enable me to contribute further in India to make our country a sporting nation and create a real-time impact. I am happy that I made the cut. The 100% Cricket Future Leaders Programme is a great initiative taken by the ICC. I think that the Women's World T20 held in Australia last year made the authorities realize that this IP has massive potential.  
What are your thoughts on women's cricket?
Women's cricket is definitely growing. The kind of viewership that the events are garnering is tremendous. More and more girls are watching and following the sport. From India's standpoint, the women cricketers are really doing well. Though a big championship has still eluded them, there is not an iota of doubt about the talent that these girls possess. They need to gain more exposure and have a team within the board that can develop, design, and execute a charter to grow women's cricket in India. 

Finally, mental health has garnered a lot of traction these days. What do you think players and boards should do to ensure that mental health isn't affected and we don't lose out on talents?
Mental health is critical for all individuals. I feel that mental health issues are only going to grow because of our lifestyles and changing environment. Talking about athletes, it is pivotal that they have a team of people who guide them in handling these issues. Apart from this, the governing board should work towards maintaining the mental and emotional well-being of its players. Collective effort is required. Simple things like regular counseling and interactions with players can do wonders.
You can follow Harini's journey on Twitter, Instagram, Facebook, Youtube 
I am a former cricketer having represented Mumbai University at All India University level. I was a part of MCA probables for the U-19 and U-23 age group. I have been an avid cricket writer for the last five years. Currently I am pursuing my Ph.D from IIT Bombay.