A 'Guru' or say a teacher is someone we all owe immense respect and gratitude to have guided and kept us on the right track in life. There's always someone who plays the role of a Guru in our life and today on the auspicious day of Guru Purnima we'll look through a few coaches who've spotted, supported, guided or groomed a few of our top Indian cricketers.
Anant Tambvekar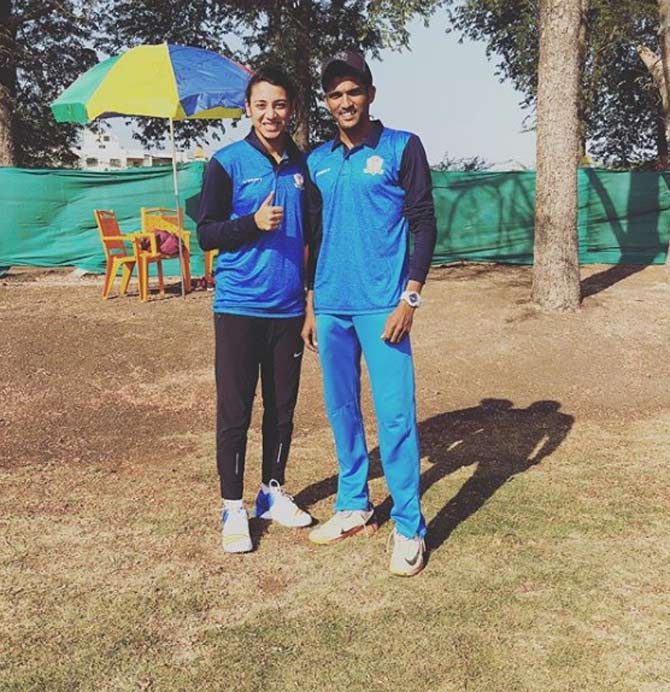 One of India's finest openers across all forms of the game and a true bowlers nightmare, Smriti Mandhana was coached under the watchful eyes of Anant Tambvekar who first met Smriti Mandhana about 13 years ago when he was the district coach at Sangli. In 2017, Smriti Mandhana was struggling at the National Cricket Academy in Bangalore to be fit in time for the World Cup recovering from an ACL injury and it was Anant Tambvekar who every weekend travelled to Bangalore and helped her train when she was not practising at NCA. It's believed that he'd played a crucial part in getting Smriti Mandhana back on her feet. Smriti Mandhana did make it to the World Cup in time and played match-winning knocks in her first couple of games at the tournament. She'd in her Player-of-the-Match acceptance speech in England thanked him (Anant Tambvekar). Smriti Mandhana is known for her footwork and it's said that it was Anant who'd helped her with her footwork that's brought so much more elegance to the left-hand batter games.
Sampat Kumar
An Indian great, former skipper, Mithali Raj was coached by the late Sampat Kumar in the early '90s. Sampat Kumar was a low-profile cricket coach of the then Andhra Pradesh State Road Transport Corporation (APSRTC). Mithali Raj sitting on the sidelines where her brother practised the game would first complete her homework and soon would pick up a bat and start hitting the ball, it then was Jyoti Prasad who was convinced with Mithali's bat lift and swift movements to drive the ball. St. John being an all-boys club forced Mithali's dad to take her to Sampat Kumar who transformed a young Mithali Raj into an absolute icon of the game. Mithali Raj in her training under Sampat Kumar said, "They didn't give me an idea that there had to be a Plan B. They trained me like a racehorse. I wasn't allowed to see right or left, so I didn't have to deal with negativity, jealousy, insecurities, or peer pressure. I didn't have proper relationships with my cousins, because I didn't attend family gatherings, for cricket's sake. Even today I'm not as close to my cousins as I am to my teammates. I missed out on school excursions, school days, so yes, I have missed a lot of things."
Purnima Rau
A former player who rose to become India's head coach in 2013 brought a golden period in India's cricketing history, Purnima Rau. After the World Cup in 2013, Rau was appointed as India's coach, but she soon in 2014 was removed from the post after the World Twenty20 in Bangladesh. She again returned to the post in mid-2015 for the home New Zealand series and it was just then that Indian cricket was starting to see a golden period. They won the ODI series 3-2 before recording a historic T20I series win in Australia. After whitewashing Sri Lanka in 50-over and 20-over formats in Ranchi, India was tagged as one of the favorites for the 2016 World T20 at home. They, however, failed to qualify for the semifinals. India soon gained its batch of favorites following an ODI series win against West Indies and the T20 Asia Cup title. In early 2017 she coached India to the World Cup qualifier title in Colombo, but by then players felt they needed a change and Purnima Rau was sacked. She returned home to Hyderabad and focused on her farmhouse, she felt done with Indian cricket as one could imagine after an exit that sudden. There came a phone call from KVP Rao who looked after the operations of women's cricket in the BCCI and asked her to coach Sikkim who received BCCI recognition in 2018. It was a two-hour thought process Purnima Rau put in before taking up the role and being back in the coaching business.
Tarak Sinha
A name that's very well known in the cricketing world is that of the late Tarak Sinha, the coach who furnished many players to their absolute best had his contributions even made to Women's cricket. Tarak Sinha is mostly known for having coached Rishabh Pant, Shikhar Dhawan, Asish Nehra and a few more.  There's also his famous ward on the list that's former Indian captain, Anjum Chopra. It was India's historic tour of South Africa back in 2002 when Anjum Chopra was appointed as the captain and it was Tarak Sinha as Indian team coach and their captain-coach relationship helped India win the test. Anjum Chopra recalled the Test and stated, "As the team's coach, he led from the front as a leader. He gave me all the confidence and freedom I needed to make decisions. It just worked out perfectly for us. We never scored 400 runs in a Test match before and had never won anything outside India." In 2018, there came something fitting Tarak Sinha's way, he was awarded the prestigious Dronacharya award for his years of hard work in the coaching business.
Yograj Singh
Former India player and famously referred to as the hard taskmaster, Yograj Singh did coach his son Yuvraj Singh successfully to the Indian colours and a few more of his students. One of India's finest keepers, Taniya Bhatia too is a student of his. Taniya when was 8 studied at the DAV Senior Secondary School where she was coached, by Yograj Singh. Being the only girl among boys Taniya's reflexes improved and she found it absolute ease when playing with girls. Taniya was later coached by former Indian cricketer, RP Singh when she made it to the state team. Taniya once stated, "He was a hard taskmaster. He helped me become disciplined in both life and the sport. Later, RP sir polished my skills. I would like to thank all my coaches from the bottom of my heart." Taniya's father, Sanjay Bhatia an aspiring cricketer himself stated, "She learnt her early cricket lessons at the DAV Senior Secondary School Academy in Sector 8. Yograj Singh was her first coach. And I think he is the architect of her cricketing career."
Yadwinder Singh Sodhi
Yadwinder Singh Sodhi was coach to all-format skipper, Harmanpreet Kaur. In her early days, it was Yadwinder's father, coach Kamaldeesh Singh Sodhi who owned a school in Moga who'd spotted her. Kamaldeesh not only extended financial support to Harmanpreet but also convinced her parents to let their daughter pursue cricket. Harmanpreet Kaur was provided with free bats, shoes, and a kit from the Sodhi's. Harmanpreet despite getting the national call and representing India struggled to find a job to support her ambitions. The Sodhi's stuck by her and tried every possible from knocking on the CM's door to ringing the DSP for a job with the Punjab Police, but the replies just weren't kind. After many rejections, it was on the recommendation of a former cricketer and the first-ever Indian women captain, Diana Edulji that had Harmanpreet Kaur land with a job at Railways.
Loves all things female cricket