"It's just a job. Grass grows, birds fly, waves pound the sand. I beat people up."- legendary boxer Muhammad Ali.
While sport is known to produce some of the most impressive performances that we thought were beyond human limits, it also produces pretty conventional quotes like the one above. Frankly speaking, when you play a mad sport like boxing, your brain is probably used to telling you things like that to keep you sane. Just like Ali, many others like to beat things, if not people. Topping this list are cricketers that love to smash balls, especially during competitions that matter most such as The World Cup.
Over the years, several cricketers have made name for their ability to smash and produce long innings so today, let's have a look at the top 5 rank-holders of the most centuries at The Women's Cricket World Cup.
1. Charlotte Edwards – 4
England's top-order batter- Charlotte Marie Edwards or 'Lottie' was one of the most majestic cricketing figures of her time and it is no surprise that she tops this list. Having represented England in 191 matches, out of which 30 were world cup matches between 1997-2013, she put together four 100s with the highest score being a scintillating 173*. She also averages a striking 53.52 during world cups owing to her seven 50s and just two ducks, making her one of the most successful players of her time.
2. Jan Brittin – 4
Second on this list is someone that was known to be very calm and composed, until a cricket ball was bowled to her. Having lost the battle to cancer in 2017, England's extraordinary Janette Ann Brittin is nothing less than a role model who continues to leave a prominent mark in the cricketing world by achieving the same feat as Edwards in 7 more innings. In 35 innings, she produced four 100s with the highest score being an impressive unbeaten 138 which came against Pakistan on the 12th of December in Vijayawada during the 1997 Women's Cricket World Cup in India.
3. Clare Taylor – 3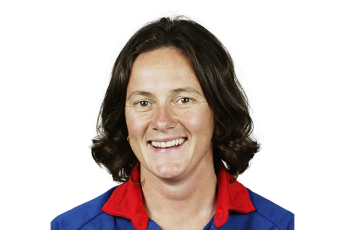 Just one 100 behind but a teammate of the first 2, Samantha Clare Taylor is third on this list with 3 centuries in 18 innings. The right-hand batter & wicket-keeper represented England in world cups from 2000-2009 and averaged an impressive 61.14. Her highest score was 137* which came during the 2000 CricInfo Women's World Cup on the 12th of December at the BIL Oval. Taylor was one of the most promising players of her time despite having a slow start, earning the tag of one of the most premier English batters.
4. Suzie Bates – 3
New Zealand's Suzannah Wilson Bates, or as she is more commonly called Suzie, is the only active player on this list with 3 centuries to her name in 19 innings played across 2009-17. The batting all-rounder averages an extraordinary 61.60 in world cups with the highest score being a grand 168 against Pakistan on 21st March in the 2009 ICC Women's Cricket World Cup. For this knock, she was adjudged player of the match, and to add to the euphoria, the Kiwis won this match heavily, by 223 runs.
5. Karen Rolton-3
A top performers list without Karen Rolton's name in it? Good joke. Last on this list is former Australian left-hand batter and captain who holds the record for highest test runs for her cricket, but she is no less in ODIs. Having represented Australia in world cups from 1997-2009, she played 28 matches and scored 974 runs, averaging an unbelievable 74.92. This was complemented by 3 centuries with the top-most one being 154* that came in a winning cause against Sri Lanka in the 2000 CricInfo Women's World Cup in New Zealand. The now 46-year-old is one of the best athletes this sport has produced and was also honored with the first ICC Female Player of The Year award in 2006.