Cricket NFTs (Non-Fungible Tokens) have taken the world by storm as the cricket-crazy fans have simply loved the idea of exclusively owning their favorite cricketer's top moments and fond memories with just a click of a button. Rario, which is the world's first officially licensed digital collectibles platform for cricket, makes this possible and has bridged the gap between a fan and his/her favourite cricketer.
Recently, Ankit Wadhwa, co-founder of Rario, India's first digital cricket collectibles platform, and Zaheer Khan, a former India cricketer and Rario's first signing, in a virtual interaction discussed cricket and what the future of cricket fandom looks like in the world of NFTs.
To begin with, Wadhwa quizzed Zaheer about his early days as a cricketer, to which the fast bowler said, "It all began in 1996 for me. India was hosting the World Cup and the cricket fever had gone to an altogether different level. I had completed my 12th and I was planning to study engineering. However, I was affected by that cricket fever caused due to the World Cup and I decided to pursue my passion of playing cricket. I came to Mumbai around that time and played club level cricket for three to four years. During that time, I gradually made my way into the Mumbai U-19 team. Later I went on to play for Baroda in the Ranji Trophy. In between my domestic cricket playing days and international debut for India, I got a chance to be a part of the Pace Foundation in Chennai. Under the guidance of Dennis Lillee, I learnt a lot. Also I would like to mention Sudhir Naik of National Cricket Club, who helped me a lot in my early days as a cricketer."
Zaheer made his international debut in 2000 and served the country for 14 years. Since his debut to date, cricket has evolved a lot. The former fast bowler said, "There is no doubt that cricket has evolved by leaps and bounds. The game is getting more and more professional. We can say that India is one of the dominating forces in the world of cricket today, which was not the case earlier. However, I would like to mention that the foundation to reach such dominance was laid years back. Players who played back then were the heroes and inspiration for many to take up the sport. A lot of young talent is getting attracted towards cricket, thanks to T20, T10, and franchise cricket."
Taking a leaf out of his illustrious career, during the conversation with Wadhwa, Zaheer shared the 2011 World Cup win memories. He reminisced, "It was a special moment for all of us. A World Cup is exciting for every player. It comes once in four years and every player wants to give his best since he doesn't know whether he will be around for the next World Cup. 2011 win is still fresh in my mind.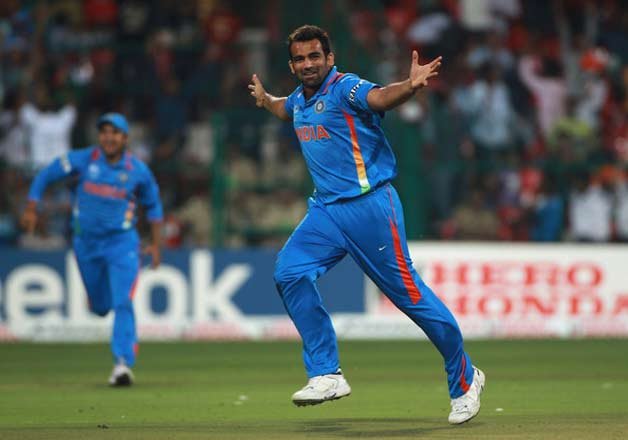 After coming so close in 2003, in 2011, we as a team were determined to win the championship. There were a lot of learnings from the 2003 World Cup in South Africa which helped me in the 2011 World Cup. We were playing at home, so there was an added pressure of doing well. Though we had the love and support of our fans, that extra pressure was like a hanging sword. On the day of the finals, at the Wankhede, the entire stadium reverberated with chants of Vande Mataram. It gave us goosebumps and finally when we won there were tears of joy. The entire Marine Drive area had become like a parking lot. Cars were parked everywhere and people were on the streets celebrating India's win."
India's win in the 2011 World Cup drove the fans crazy and after more than a decade, the fandom continues to scale greater heights. Talking about the changing fandom, Zaheer said, "Earlier, we had the fans collecting autographs of their favorite players on a paper, bat, t-shirt, etc. They would also write letters. But now there has been a paradigm shift in the fandom. Selfies have replaced autographs. In this world of social media and smartphones, fans feel more connected to their favorite cricketers."
In addition to the selfies, NFTs is something that has taken the cricket fandom by storm. Zaheer averred, "NFTs is like the next big thing in the world of fandom. It is surely a great way for the fans to connect with their favorite cricketers. Now in this day and age of NFTs, fans don't have to worry about preserving that chit of paper or t-shirt or bat carrying the autograph of cricketers, they can simply carry the memorabilia with them anywhere and everywhere in a digital form."
Wadhwa, co-founder of Rario added, "The idea behind Rario's cricket NFTs is that there is a huge scope of revenue generation from the sport other than media and sponsorship. To tap this market, we started with Rario. Cricket is the second largest sport in the world in terms of fans and revenue after football. At present, we can say that we don't have the same kind of association between a fan and cricket outside of television. To bridge this gap, we integrated blockchain technology and cricket, to bring a cricket NFT to table. Through Rario, we wanted to create an example in front of the world."
NFTs are still in their early days and there is certainly a lot of scope in this space. Zaheer said, "There can be a limited number of cards linked to the personal records of players. Fans owning these cards can make their teams. Fans always have a perception about the playing XI that they want to see. Through such cards, they can make their own teams. Apart from this, virtual battles can enhance this NFT space. For instance, you can see Wasim Akram bowling to Virat Kohli or Rohit Sharma. I think this will be pretty exciting."
Towards the end of the discussion, Wadhwa concluded, "There are close to 2.5 billion cricket fans. The market is huge and there is tremendous scope in the NFT space. We at Rario will be launching a number of applications and games on top of the NFTs to give the cricket-crazy fans to enjoy the sport and stay connected with their favourite players. Digital collectibles is just the beginning. Utility will be the next frontier. Player cards and hero NFTs will be launched soon by us."
At present, Rario has already signed more than 25 cricket ambassadors and numerous global cricket leagues. This is just the beginning, for Rario has a lot of gas still left in its tank, which will take the cricket-crazy fans on an amazingly enjoyable ride.
Watch the video here
Loves all things female cricket