The first of the three T20Is between India and Australia was played on Thursday at the Metricon Stadium in Queensland. Female Cricket Live got in touch with Soniya Dabir, a former India player and coach, and Sharadha Sridharan, former Tamil Nadu player and coach to discuss the first T20I.
Winning the toss for the fourth straight time in this series, Australia's captain Meg Lanning asked India to bat first. The wicket was a batting paradise as the ball was coming nicely on to the bat. India plundered 131-4 in 15.2 overs, before the rain played spoilsport. The match was abandoned due to rain.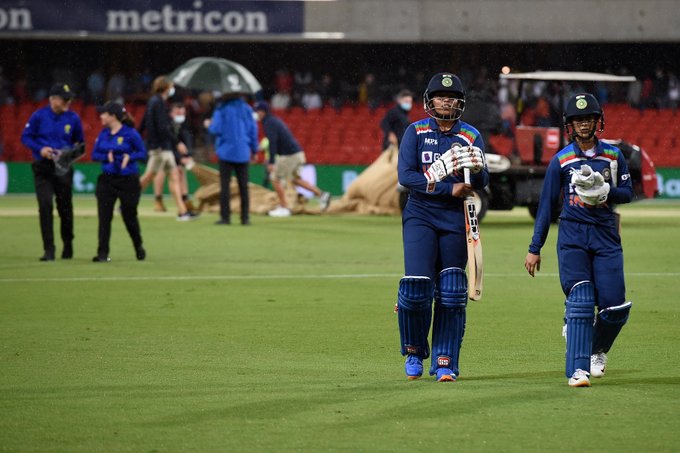 On Team India's opening partnership between Shafali Verma and Smriti Mandhana
Soniya said, "It was extremely good to see fearless cricket being played by Indian batters. Though Tayla Vlaeminck was bowling at 115-120kph, our batters were unscathed. The opening pair of Shafali and Smriti, as they do most of the time, provided a brisk start, and then Jemimah carried on with the momentum. She played some good cricketing shots. Harmanpreet, Yastika, and Richa also looked good in the middle. They made Meg Lanning think about where to place the fielders. I am sure India will continue to play this brand of cricket in the upcoming games as well."
Sharadha added, "It was a very good start by the openers. It was the highest score in 5 overs that any team has achieved against Australia in T20Is. India scored 46-2 in 5 overs. We usually do not see Meg Lanning being so tense. There was pressure on Australia. It was great to see the aggression and positive cricket being played. I feel the only thing that our openers can improve is focus more on strike rotation. For instance, Shafali played 14 balls today and scored 18, including three sixes. There were 11 dot balls. If she can concentrate on rotating the strike better there will be less pressure on her. There is no doubt about her hard-hitting ability but she can add this feature to her game as well."
On Shafali Verma's inability to rotate the strike
Soniya further added, "I feel Shafali was going away from the ball and playing her shots. If she is playing in line of the ball she can get more scoring opportunities. Also as we discussed earlier, playing with soft hands and pushing the ball in the gaps to take those singles is important."
JUST SHAFALI VERMA THINGS! #AUSvIND pic.twitter.com/zXRwvGPLbQ

— Female Cricket (@imfemalecricket) October 7, 2021
On Jemimah Rodrigues' comeback in Playing 11
After the fall of openers, Jemimah came in at number 3. She scored an unbeaten 49 off 36 balls, including seven boundaries. Sharadha said, "It was nice to Jemimah playing those nice cricketing shots. She ran well between the wickets and she was busy at the crease. When she was there the momentum did not break at all. She was also talking to her partner Yastika, who was batting at the other end. It was as if Jemimah carried on from where she had left in the Hundred. She played smart cricket which was evident from the fact that when Hannah Darlington, who was playing her debut T20I came in to bowl, Jemimah straight away put pressure on her by playing those cuts. Jemimah's inclusion in the side paid off big time for India."
That's how Jemimah announced her comeback in Playing 11 🙌😃#AUSvIND pic.twitter.com/uLki1Dqxxn

— Female Cricket (@imfemalecricket) October 7, 2021
Soniya added, "Jemimah is a seasoned campaigner. She is just 21 years old but there is a lot of maturity in her way of playing. She was talking to Yastika and Richa when they were batting. It was good to see. After Yastika's LBW appeal, Jemimah went to her and had some comforting words. Also for Richa when she hit those boundaries that came off the edges, Jemimah spoke to her and gave her confidence."
On Harmanpreet Kaur's comeback as a T20I Captain
Harmanpreet Kaur, playing her first game of the series, looked comfortable. India's T20I captain scored 12 off 5, including three boundaries, however was outdone by left-arm spinner Sophie Molineux. Sharadha said, "Harmanpreet looked at home during her brief stay. There were no signs that she was coming up from an injury and playing her first match of the series. Facing someone like Vlaeminck, who is quicker than Indian bowlers is not easy and Harmanpreet played well against her. It reminded me of that 171 which she had scored against Australia in the semi-final of the 2017 World Cup. She was moving well in the crease as well. She looked confident. I was disappointed to see her get out to Sophie Molineux. Against England, it was left-arm spinner Sophie Ecclestone who troubled her. I feel that she should just try to play straight to these left-arm spinners instead of looking to play the flick, which leads to the closing of the bat. Instead, she can play with the full face of the bat to these spinners."
On Australia bowling 8 Bowlers:
Australia used eight bowlers in the match. Sharadha said, "I was surprised to see Sophie Molineux taking the new ball. Left-hand batters would love to face left-arm spinners. Instead of Molineux, Ashleigh Gardner could have been given the new ball. We all saw what Gardner did in that fourth over which was her first, getting rid of both Smriti and Shafali. I also feel Georgia Wareham could have been brought a bit earlier. She came to bowl in the 13th over and straight away picked up the wicket of Yastika Bhatia. Apart from this, I was surprised to see Ellyse Perry bowling just one over. Additionally, Nicola Carey and Hannah Darlington are similar bowlers. May be Australia can think of choosing anyone between them. There was too much rotation. Eight bowlers are far too many. It was surprising to see that from Australia, a team which usually has a settled bowling combination."
1000 T20I Runs & Counting.@JemiRodrigues is a rockstar, both on and off the field.

Congratulations on this milestone, Jemzie 🥳💪#AUSvIND pic.twitter.com/avsU0Pci40

— Female Cricket (@imfemalecricket) October 7, 2021
What's the par score in the T20Is at the Carrara stadium?
After 15.2 overs, India scored 131-4. The wicket is good for batting. Soniya said, "At this venue, anything in excess of 150 will be a par score. If India bats first in the upcoming two games, India should look to post 150+. Australia has some good batters, who can chase down big scores."
On Ashleigh Gardner's performance in the series so far
Ashleigh Gardner was the pick of the bowlers for Australia scalping 2-28 in her three overs. Sharadha said, "The best thing about her bowling is she keeps it simple. It was good to see that when she came in to bowl, she straight away came round the wicket to Smriti Mandhana. We know that Smriti is not that comfortable playing those inside-out shots to off-spinners. Smriti has got out to Gardner around 7-8 times in international cricket. She was bowling intelligently. She varied her pace well. She bowls the usual off-spin as well as those straight ones. With her aggressive batting, she is indeed a utility all-rounder for Australia."
Should India make any changes in Playing 11 in 2nd T20I vs Australia?
The second T20I will be played on Saturday at the same venue. Soniya said, "India have a good chance of winning the remaining two T20Is. Going into the next couple of games, I feel Radha Yadav can come in place of Rajeshwari Gayakwad. Radha is a better batter and fielder than Rajeshwari." Sharadha said, "I do not see any change in the playing XI for India. May be for the third T20I, we can see Radha Yadav coming in for Rajeshwari Gayakwad."
I am a former cricketer having represented Mumbai University at All India University level. I was a part of MCA probables for the U-19 and U-23 age group. I have been an avid cricket writer for the last five years. Currently I am pursuing my Ph.D from IIT Bombay.