Juggling, industrial design, singing with her mouth shut, and of course cricket, this fast bowler from Australia can do it all. She has been a consistent performer at the domestic level playing for ACT Meteors then and New South Wales now. She has also been a part of the Women's Big Bash League since season one. In 2021, she was a part of the Australian squad for the India series.
In an exclusive chat with Female Cricket, Maitlan Brown, Australia's fast bowler, talks about her journey from studying industrial design to playing cricket and more.
.
Excerpts.
Tell us about your beginnings. Was cricket the first sport that you played or was it something else?
Cricket was actually not the first sport that I took up. It was golf, soccer, and hockey that I started playing before cricket. I used to play cricket in my backyard with my father and brothers. We used to play with a tennis ball. Later I played cricket in school and ended up playing for the school cricket team. I enjoyed playing cricket. I still play hockey, golf, and soccer alongside cricket. It is important for young kids to diversify and play different sports because it is really fun and gives you different experiences.
I ended up focusing more on cricket probably towards the back end of high school. I played a lot of my pathway cricket for New South Wales (NSW). At the end of it I was picked for ACT Meteors. I moved down to Canberra and was there for the last four years. I just moved up to Sydney recently in the last year. I am now playing for NSW Breakers and Sixers.
Did you always want to be a fast bowler?
Actually, I started off with batting. I opened the batting once for an under-age game and in that match, I ended up getting a golden duck. I think that was a sign for me to put down the bat early on and pick up the ball (smiles).
You started playing your domestic cricket for ACT Meteors and now you are a part of NSW Breakers. Tell us more about the teams and your experience with them.
I grew up playing for NSW in the under-age tournaments since it was close to my home. As years went by, there was a lot of competition and it was difficult to make it into the NSW team. So in search of better opportunities, I moved down to Canberra and started playing for ACT Meteors. I enjoyed my time with the team there. In 2020, I was on a break as I had torn my hamstring. I wanted to make a fresh start. So yes, I decided to move up to Sydney, where my home is. The decision was both personal and professional. Last year onwards, I was with NSW. They have a more professional set up, more resources, etc.
Apart from being a professional cricketer, you have a degree in industrial design from the University of Canberra. Were you always interested in design?
I was always interested in making something or the other with whatever things I get. As a child, I always used to be outside with my father in the backyard, searching for something and making things from them.
I was very creative and interested in design and technology. I wanted to know how things are made, what technology is used, etc. which propelled me to take up a course in industrial design. When I moved down to Canberra, the player development manager encouraged the girls to study outside of cricket. So my obvious choice was industrial design.
You also won the Emerging Artist of the Year at the University of Canberra.
Yes, I had come up with a large-scale 3D printing massive outdoor lounge. I had used PET, which in simple terms is something like plastic that can be recycled to make a lounge. The lounge that I had designed won me the award. It will be exhibited in Melbourne this year.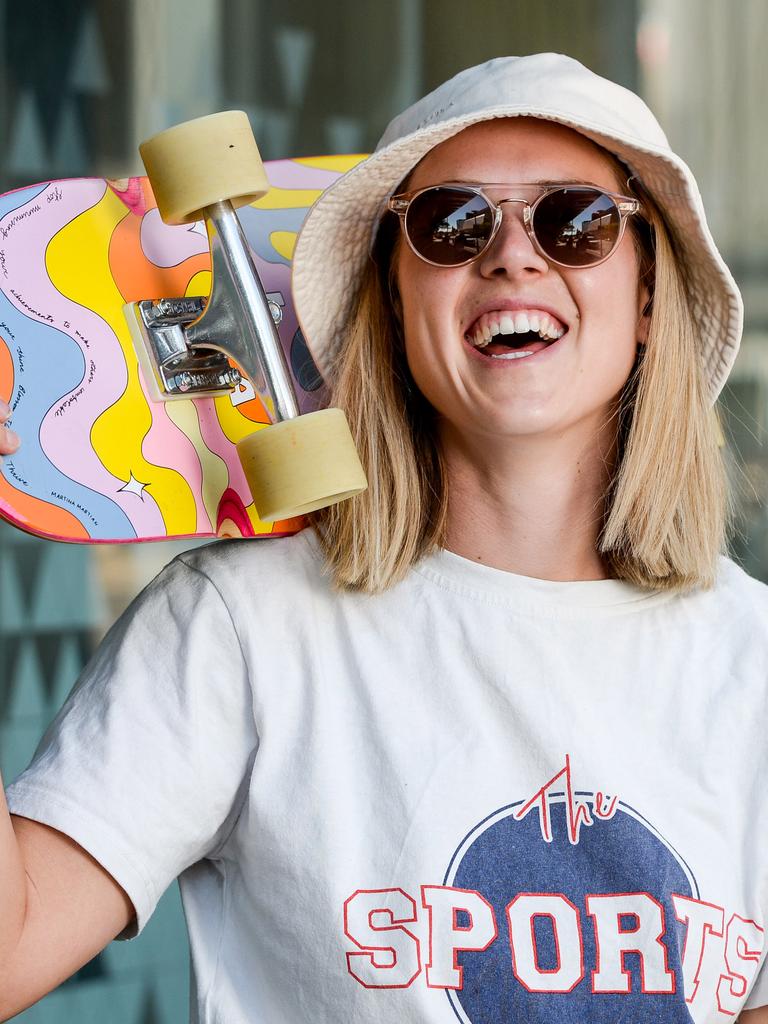 You have your own business website by the name of sixstich design. Tell us about that.
Six Stitch is a colloquial expression for a cricket ball. I thought of combining cricket and design together. I started my own website by the name of sixstitch design. This website showcases all my products. At the moment it is just a visual portfolio. The website helps me to go and tell somebody what I do outside of cricket. I use the platform to push something that I have made
Crafting our way back to cricket, you played for Melbourne Renegades earlier and now you are a part of Sydney Sixers in the WBBL. How was the transition?
It was a tough decision for me to move away from Melbourne Renegades. Renegades was the first team that gave me a professional contract in the WBBL. So going away from them was going to be difficult. I was upset and I spoke to many people about it. For me, it was a professional move, since I wanted to work consistently with Ben Sawyer, who is Sydney Sixers' fast bowling coach as well as Australia's fast bowling coach. Renegades did not have a fast bowling coach back then. I used to struggle sometimes. Also in the Sixers with the likes of Alyssa Healy, Ellyse Perry, and Ashleigh Gardner around, I get to learn a lot.
In 2021, you were a part of the Australian squad for the India series. How was the experience of being in the Australian change room?
It was a pleasure to be a part of the world-class squad. I learned a lot of things from the players, for example, the way they prepare themselves for a series, the way they train, so on and so forth. For me, it was like a dream come true, because these were some of the players I had as my role models and now the fact that I can call them my friends is simply surreal.
With England A series, World Cup and Commonwealth Games, this is going to be a busy year for you. How are you preparing yourself for this?
It is going to be a busy year for sure. Last year, we had the India series, then the WBBL, followed by the WNCL. With so much cricket, it feels as if the season is going to end, but let me tell you the season has just started. It is going to be daunting on my body but with so much cricket to look forward to I am really feeling very good. I aspire to get into the World Cup squad. Right now I would like to focus on the England A series and hopefully the rest takes care of itself. Even if I don't get picked, I will be coming back and playing domestic cricket. In either way it is a win-win for me.
Rapid Fire Questions
1. Who is your favourite cricketer?
Erin Burns
2. Which is your favourite cricket ground?
SCG (Sydney Cricket Ground)
3. Which batter is the most challenging to bowl to?
Alyssa Healy
4. Which batter would you like to bowl?
Marnus Labuschagne
5. Who is your favourite WBBL teammate?
Erin Burns
You can watch the Full Video here
I am a former cricketer having represented Mumbai University at All India University level. I was a part of MCA probables for the U-19 and U-23 age group. I have been an avid cricket writer for the last five years. Currently I am pursuing my Ph.D from IIT Bombay.